OTG pen drive 8GB usb Flash drive memory U-Disk for Smartphone/ Computer
Product Code: FAPD-12
Availability: In Stock
TO Place an order
Call @ 9981520088
Price:
Rs.1,299.00
Rs.899.00
" F-EYE OTG USB Flash Drive 8GB U-disk for Cell Phones & Tablet PCs "
Multifunction OTG smart phone USB flash drive. High speed transfer and easy to carry. Android/Windows/IOS X. Double USB ports design, can both run on computer and mobile phone, it is compatiable with mobile phones which have micro USB port and OTG function. This USB Drive can read and write data on mobile phont and any device with micro USB port Plug and Play When connect the U- disk to Smartphone, then you can transfer Dates, Play music and video, File Exchange etc.No need install any software.
Use Smartphone U-Disk:Smartphone U disk connect to the phone, until your phone appear USB connected, indicating that smartphones and smartphone U disk have connected and after Connection, open the smartphone file manager, you will find the the usbStorage folder appeared inside sda folder, this file is the smartphone U disk space (if smartphone U disk inserted MicroSD card, then usbStorage file The folder will show sda sdb two files folder). You can directly open the sda and sdb file folder inside the pictures, music,video and other formats.
Brand New & Durable & Stylish. Most competitive price. 100% full capacity. Shaking and electromagnetic interfering resistant. Support software encryption, with USB HDD / ZIP DOS starting functions. Secure data storage for a long time.
* Compatible with most Android devices for easy content transfer, extra storage for your mobile device.
---
" Features & Functions of 8GB Mobile Pendrive "
Transfer files between your smartphone, computer or tablet using the dual micro USB and USB 2.0 connections.

Backup and transfer photos or video content from your smartphone or tablet to PC. Sharing photos and videos between two smartphones quick and easy.

Convenient - ultra-small, pocket-sized design for easy transportability, double USB interface, can be directly plugged into mobile phones and computer.

Smartphone data can be exchanged easily. Support cross-platform conversion, support hot plug & play, no need drive, only plug in.

No external power supply required. Easy to read and write in high speed.

Solid state storage, shock resistance, damp proof, lighting resistance, anti-magnetic. Durable data storage, small style and fashionable, convenient to carry .

Hardware Requirement: PC with USB connection, notebook, MAC. Operating System: Win98/ME/2000/XP/ Vista/7, OS 9.X/Linux2.4.

Capacity: 8GB. Supports OTG function. Interface: USB2.0 and Micro USB. Can directly connect with PCs or cell phones via the USB interface, plug and play capability.

Allows you to conveniently store and carry photos, music and other files and compact size for ease of carrying.
---
---
---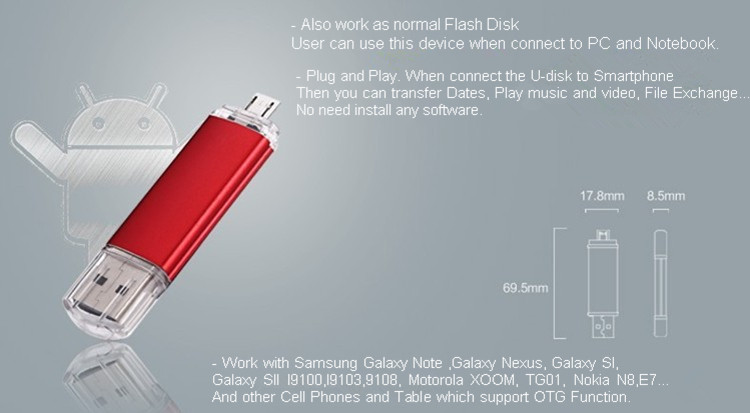 * Connect U-Disk to Mac/PC through USB, save files to smartphone U-Disk, then remove connection.
* Connect smartphone U-Disk to cell phone which support OTG funtion, then entering "USB storage".
---
---
- Mobile U Disk Pendrive / 3 in 1 (8GB).
- Packaging Box.
- User Manual.
Specification
Compatibility
For All Android Smartphones.
Brand
F-EYE
Transfer Rates
10MB/s
Net Weight
10g
Dimension
58*19*10.5MM
Capacity
8GB
In Box
Product Name
Mobile U Disk/ Pendrive 3 in 1 (8GB)
User Manual
1
Write a review
Note:

HTML is not translated!