Fashionable Wallet Mobile Case with Stylish Design for Iphone 6
Product Code: FMCLIN-2 PINK
Availability: In Stock
TO Place an order
Call @ 9981520088
Price:
Rs.1,699.00
Rs.999.00
" Wallet Leather Flip Purse Cover Flower Rhinestone for iPhone 6 "
Luxurious PU leather handbag/Wallet, Diamond Rhingstone buckle case with long hand chain For iPhone 6 Plus. Completely revamp your style by adding more fame to your collection of handbags, by F-EYE PU Leather Handbag/Wallet, Diamond Buckle Case with Long Hand Chain for iPhone. Designed for a woman's need for perfection and easy handling of the necessary essentials at the time of various outings, this stunning handbag leaves you with a dashing and royal look.
Fabricated on premium synthetic leather that features stylish exterior and defined edges, this fashionable, lightweight handbag is anti-dust, washable, and tear-resistant. Indeed, apart from being durable, the Diamond buckle handbag with soft interior material provides an extreme care to your smartphone. Available with an appealingly long and small chain strap that enables easy handling, the trendy wallet renders complete access to your smartphone without even removing the case.
Built-in credit card/ID card slot, pocket to keep your cash and essentials safe, holding your keys and much more accordingly, this outstanding bag just doubles your glamour and personal elegance. The designer piece is perfectly compatible for Apple iPhone 6 and 6 Plus, iPhone 5s, Samsung galaxy s6, note 4 and note 5.
This sophisticated multiple use handbag cum wallet is sincerely crafted to add immense shimmer and rich style to your daily life.

---
" Features of Wallet Leather Flip Purse Cover "
Extremely Durable: Made with high-quality premium synthetic leather with soft interior that provides immense care to your smartphone.

Appealing Design & looks: This stunning and stylish looking handbag cum wallet will drive you to undergo an experience of complete royalty.

Compatibility:- Is perfectly convenient for for Apple iPhone 6 and 6 Plus, iPhone 5s, Samsung galaxy s6, note 4 and note 5 smartphones.

Extreme Care Case:- The strong case provides good care for your mobile phone against scratches, dirt, fingerprints and other daily damages.

Easily accessible:- Delivers complete access to speaker, buttons, camera and ports, etc.

Multiple use:- Built-in credit card/ID card slot, cash and essentials pocket makes it a gem to have on the go.

Long and small Chain:- Use according to your convenience with the comfortable long or trendy small chain.
---
---
---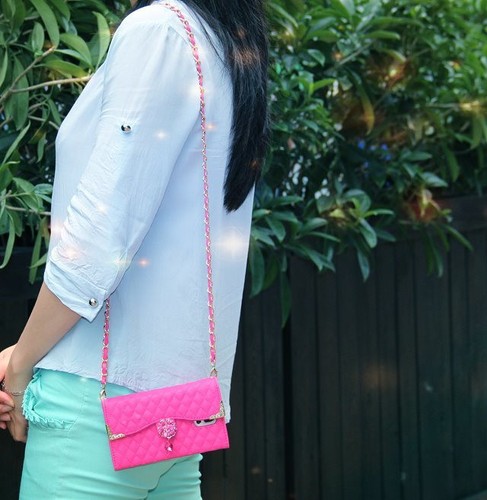 1* Wallet Leather Flip Purse Case Cover.
1* Long Chain & 1* Small Chain.
1* User Manual.
Specification
Compatibility
For Iphone 6
Brand
F-EYE
In Box
Product Name
Fashionable Wallet Mobile Case with Stylish Design for Iphone 6
User Manual
1
Write a review
Note:

HTML is not translated!