0.33mm Tempered Glass Screen Protector for Samsung Galaxy S6
Product Code: FMT-129
Availability: In Stock
TO Place an order
Call @ 9981520088
Price:
Rs.1,499.00
Rs.499.00
F-EYE 0.33mm Tempered Glass Screen Protector For Samsung Galaxy S6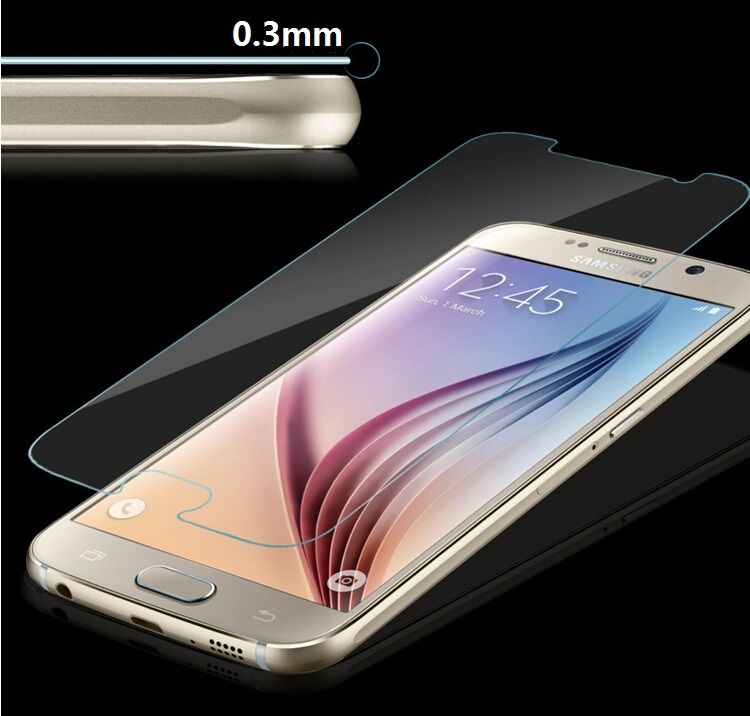 The screen protectors made of specially processed glass which is very effective for protecting your screen from damage. It's the guardian of your screen and will take good care of your screen.
F-EYE Tempered Glass provides complete protection to screen of your smartphone. This glass screen guard adds extra protection which prevents your smartphone screen from scratches and also from any sudden mishaps. This high glossy glass is precisely made to the perfection of 0.33mm thickness. This screen protector tempered glass is specifically designed to align properly on this smartphone and gives ultimate protection to your mobile screen.
The Tempered glass screen protector is made of material that utilizes advanced technology to shield and protect your Samsung Galaxy S6. Made from a high grade glass with a 9H hardness rating, these protectors are shatterproof, allowing it to absorb more impact than your regular PET screen protector. The screen protector has a polished finish giving it a smooth feel when sliding and swiping the screen. The design and lightweight material will provide peace of mind no matter what comes in contact with your device. Drop it on its screen, stab it with a fork, or scratch it with a blade, you will see how this protector will not scratch, crack, or shatter when on your phone. It is the Ultimate protection.
"Features of Samsung Galaxy S6 Tempered Glass"
F-EYE tempered glass screen protector is made with specially processed glass to protect the screen of device from shocks and scratches by effectively in absorbing the impact. The tempered glass screen protector is transparent, here showing by some special features:-
Olephobic Coating

The protector has an oleophobic coating that prevents fingerprints and other contaminants and makes the film easy to clean.

No Bubbles

Advanced silicone adhesion, extremely easy installation process with absolutely no bubbles.

---

No Fingerprint

It can stop waterdrop or other liquid like oil from getting splashed. So, it can keep the phone very clean. No fingerprint leave on the screen.

Sensitive Touch

Never experience a loss of screen sensitivity or responsiveness.This screen protector becomes an extension of your device not an accessory - Feel the difference TechPro has to offer.

---

Real Glass

Made of real tempered glass that protects the original screen from shattering, with an industry leading hardness of 9H, just below diamond with a hardness of 9H. Provides super high definition clarity.

---

---

9H hardness

9H: The surface of the protector has a hardness of 9H, three times stronger than regular PET film. Even shard objects such as knives and keys will not scratch the protector.

---

---

Shatter-proof Glass

It can protect the phone screen in most normal drop or accident. When broken, its shatter-proof function breaks into small pieces that are not sharp, which prevents damage to both your smart phone screen and your fingers.

---

High Transparency

A screen protector made of glass makes for an ultra-transparent surface. Have peace of mind that your screen will always be protected without losing any quality in your screen's resolution. Use your device the way it was meant to be used.

---

Round Edges

Rounded edges help reduce the risk of cracks on the screen protector. If your screen protector does crack, it will be held together by the anti-shatter film, eliminating the risk of getting hurt by sharp glass shards.

---

---

Delicate Touch

The protector is coated on the back with a strong silicon adhesive that makes installation easy and attaches the film firmly so as to not affect the touch screen's sensitivity.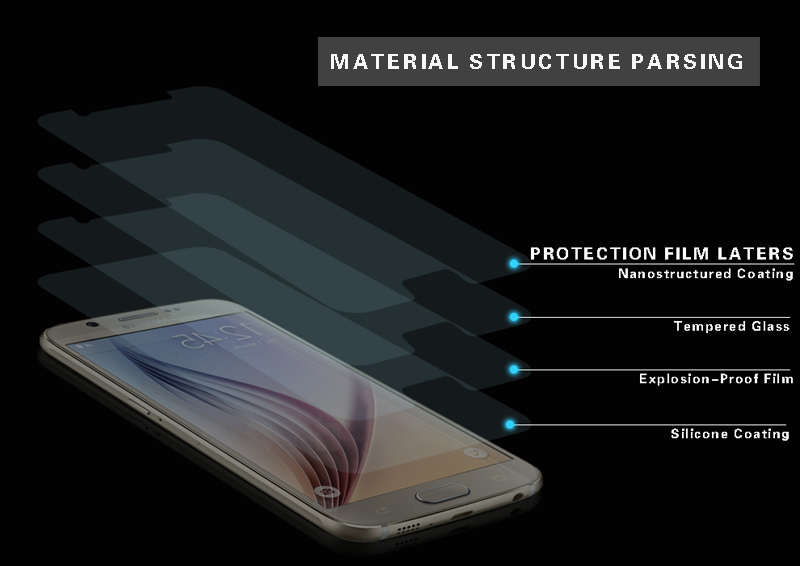 "Some Special Specification"
Brand: F-EYE

Model: Samsung Galaxy S6.

Function: Screen protector

Color: HD Clear / Transparent.

Thickness: 0.33mm.

Available Radian: 2.5D Round Angle.

Transparency: 99%

Hardness: 9H.

High Transparency.
​
"How to Install Samsung Galaxy S6 Tempered Glass"
Includes Everything You Need:-
One Tempered Glass Screen Protector.

One Cleaning Cloth.

Alcohol Wipe OR Dry Wipe and Wet Wipes.

One Dust Removal Sticker.

Installation Instructions.
Specification
Compatibility
For Samsung Galaxy S6
Brand
F-EYE
Color
Transparent
Thickness
0.33mm
In Box
Product Name
Tempered Glass Screen Protector for Samsung Galaxy S6
User Manual
1
Write a review
Note:

HTML is not translated!