0.2mm Electroplating 3D Curved Front Full Coverage Tempered Glass Screen Protector For Samsung Galaxy S6 Edge Plus
Product Code: FMTC-37 (0.2mm)
Availability: In Stock
TO Place an order
Call @ 9981520088
Price:
Rs.2,669.00
Rs.1,599.00
"0.2mm 3D Full Curved Design Tempered Glass for Samsung Galaxy S6 Edge Plus "
The screen protectors made of specially processed glass which is very effective for protecting your screen from damage. It's the guardian of your screen and will take good care of your screen.

Newly designed 0.2mm Samsung Galaxy S6 Edge Plus Tempered Glass Screen protector provides protection to the Screen from damage and scratches .with specially processed glass that has been reinforced to increase shock absorbency. The glass is Made-up of shock-proof technology. It is scratch-resistant, anti-fingerprint, anti-oil, radiation protection, bacterial proof, can greatly reduce the damage caused by the screen due to the strong collision. The Silicone adhesion ensures the screen protector and the screen has nothing between it, which increases touch sensitivity. Ultra clear glass ensures a crystal clear image quality superior to normal screen protectors.

This tempered glass screen protector for is a must-have for anyone prone to constantly dropping their phone. The screen protector is designed to prevent scratches and absorb shocks. The surface of the glass is highly polished and keeps very clean with a simple wipe of a cloth. The screen protector may feel like plastic to touch but rest assured it is 100% class, this is due to the thinness of the screen and the special coating on it.The item is a cellphone screen protector, which is specially designed for Samsung Galaxy S6 Edge Plus. It is mainly made of durable hard tempered PET , to well protect your phone from dust, sand scratches and other damages. With curved full coverage design, it is really a wonderful screen protector for Samsung S6 Edge.
" Feature's of 3D Full Curved Samsung S6 Edge Plus Tempered Glass "
Shatter and scratch proof with 9H hardness rated tempered glass. Reduce eye strain and fatigue by filtering blue light. Anti-fingerprint and Smudge proof with Oleophobic coating. Perfect optical clarity and touchscreen responsiveness. Easy and bubble-free installation for a perfect fit.
3D Full Curved

This screen protector is produced to allow full curve around the edge of your phone, it can only have adhesive on the top and bottom front sections and a thin strip down the sides.

9H Hardness

The hardness is 10H,and our film made of 9H(9 hardness premium tempered glass)so the ability of the anti-scratch is excellent.

Olephobic Coating

The protector has an oleophobic coating that prevents fingerprints and other contaminants and makes the film easy to clean.

Real Glass

Made of real tempered glass that protects the original screen from shattering, with an industry leading hardness of 9H, just below diamond with a hardness of 9H. Provides super high definition clarity.

---

Scratch Resistant

The Tempered Glass material, even in the strong collision that can effictively mitigate the impact, reduce losses.

Round Edges / 0.33mm thickness

With moderate thickness of 0.3mm,the film can protect the screen effectively to a certain extent, but can't avoid the crack of the screen,so we should protect our phone carefully

---

---

Anti Fingerprint

Add oleophobic Coating,not only can resists oils magically ,but also reduces annoying fingerprints,even can guarantee the high touch sensitivity.

Sensitive Touch

The protector is coated on the back with a strong silicon adhesive that makes installation easy and attaches the film firmly so as to not affect the touch screen's sensitivity.
" Some Special Function's "
---
---
---
---
---
---
---
" Multi Layer Protection & Material Structure Analysis "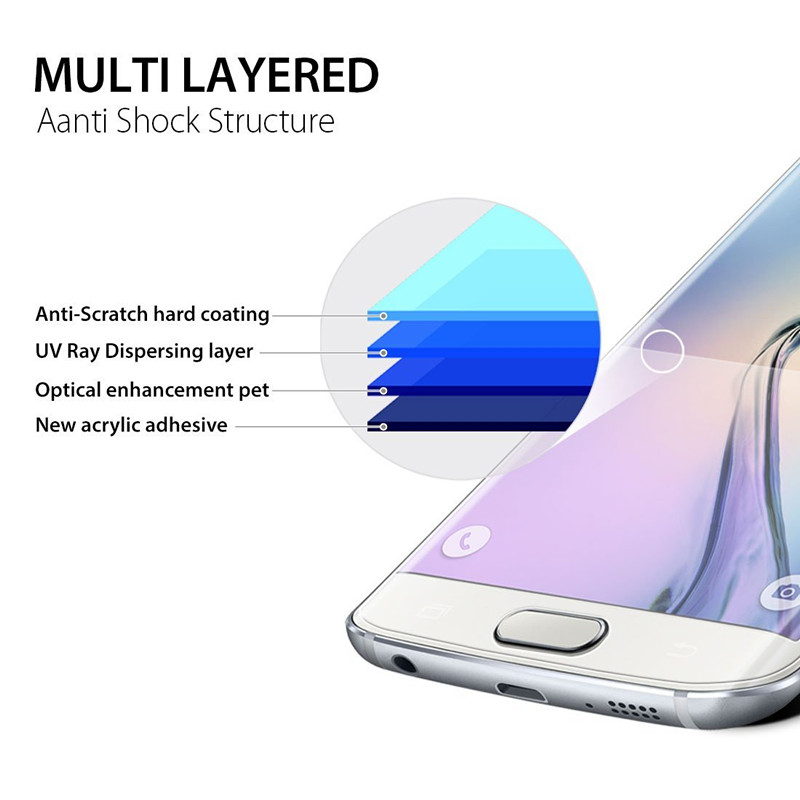 " Some Special Specification's "
Brand: F-EYE
Model:

Samsung galaxy S6 Edge Plus

.

Function: 3D Full Curved Tempered Glass Screen protector.

Color: HD Clear / 3D Full Curved Tempered Glass.

Thickness:

0.2mm.

Available Radian:

2.5D Round Angle

.

Transparency: 99%

Hardness:

9H.

High Transparency.​
" How to install 3D Full Curved S6 Edge Plus Tempered Glass "
1- Tempered Glass Screen Protector. One Cleaning Cloth.
Specification
Compatibility
For Samsung Galaxy S6 Edge Plus
Brand
F-EYE
Color
Golden, White, Clear Transparent, Wnite
Thickness
0.2mm
In Box
Product Name
3D Full Curved Tempered Glass Screen Protector For Samsung Galaxy S6 Edge Plus
User Manual
1
Write a review
Note:

HTML is not translated!